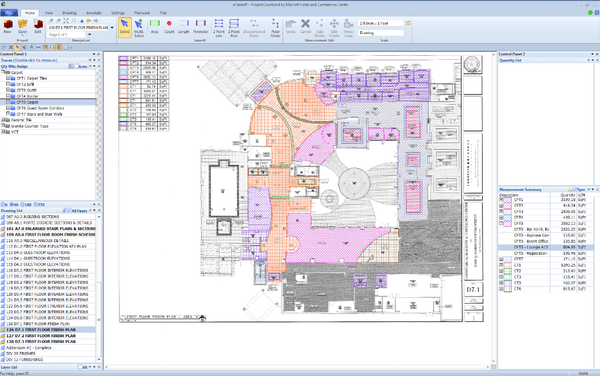 eTakeoff Dimension is a complete electronic viewer and takeoff solution for estimators across all construction disciplines. There are many reasons that your company should consider eTakeoff as your new takeoff solution. Here are our a few of our favorites.
No Time Wasted Converting Files
Unlike many other systems, eTakeoff does not require you to convert your files to a native format (TIF, etc.) When you create a new Project in eTakeoff, the program references the drawing files in the Project Folder and store all measurements and actions on those drawings in the Dimension Project Database. The original drawing files in the Project Folder are NOT copied or modified in any way and do not need to be converted. The program accepts PDF, TIFF, JPG and most standard drawing file formats.
Projects with over 100 Drawings load in seconds before you even begin takeoff! this also helps reduce redundant file copies.
Multi-User Technology Encourages Project Collaborations
eTakeoff supports full multi-user concurrent use across a network. Multiple estimators can work in the same Project without conflict. Filtering options also make it easy for multiple users to keep their interface clean, while working on the same drawing as others.
Additionally, the options Client/Server engine from eTakeoff can greatly improve the speed across the network as traffic increases. This helps reduce network lag while many people are working on the same project.
A Familiar User Interface
The ribbon toolbar interface is modern and familiar for any users of the current Microsoft Office Suite. Rather than drop down menus, you can navigate through tabs and select your tools with easily recognizable icons.
A customizable Quick Access Toolbar provides a readily available shortcut to your most used tools. Saving you even more time from clicking through options.
Bring your takeoff to the next level with Extensions!
Extensions are similar to Assemblies in that they allow you to add additional input and output parameters to any takeoff measurement.
Takeoff provides you with a library of pre-defined assemblies. You can use these templates or build your own extensions to bring your takeoff to the next level. Create user-defined extensions with your own formulas, variables and if/then logic. An extension can then be attached to the Trace to produce assembly item properties and measurements.
For instance, instead of just taking off the length of a wall, you can input Trace Measurement properties to also calculate track, studs, screws, etc!
Superior Integration Microsoft Excel
If you use Excel to build your estimates, you can create a template that dynamically integrates with eTakeoff using the Excel Add-in. Link measurements to the spreadsheet and perform updates to the spreadsheet as you change measurements or continue takeoff. The Refresh Quantities option keeps your estimate up to date with any takeoff modifications.
You can also use your linked template and create Save-As copies for new projects. No need to rebuild and relink your estimate files!
Best in Class Integration with Sage Estimating
With the eTakeoff Bridge program you can integrate seamlessly with Sage Estimating. Bridge is a separate program that runs between eTakeoff Dimension and the Sage Estimating system.
You can create a Fully Automatic Mapping History between your traces in eTakeoff and Sage Estimating Items or assemblies. This tool helps you improve your estimating productivity by reducing redundant input and human error.
Go For a Test Drive
Click below to start a free trial and see for yourself just how powerful eTakeoff can be for your construction business.
Related Articles:
Top 5 Reasons Customers Upgrade to Sage Estimating SQL
5 Critical Steps to Winning More Bids
Top 10 Reasons Estimators Buy Takeoff Software
What SQL Server Means to the Construction Industry