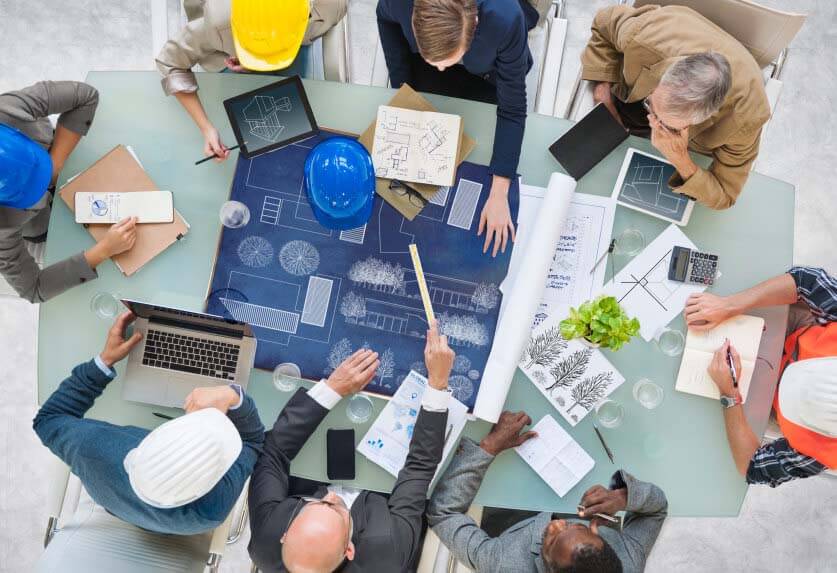 Every construction project requires careful management and coordination of many different people and various resources to get the job done right. That's why collaboration technology has become so important to the construction industry – so projects can move forward on time and on budget.
Why is Collaboration Important?
Construction requires many different stakeholders to come together in order to complete a project on-time and on-budget. Everyone from owners, architects, designers, and engineers to contractors, procurement teams, and subcontractors need to remain "on the same page" to keep projects on track.
But too often, these stakeholders are working in their own silos – using their own documents, systems, and processes – and experience very little interaction with other groups involved the process. That disconnection often leads to miscommunication, frustrated customers, potential mistakes, and projects that fall way behind schedule.
What Does Collaboration Technology Mean?
At its core, collaboration technology provides a single centralized location for all construction-related documents, processes, and communications. In short, everyone involved in the project has access to the same up-to-date information – like drawings, schedules, job information, and reports – and can provide their own real-time input and updates as they work.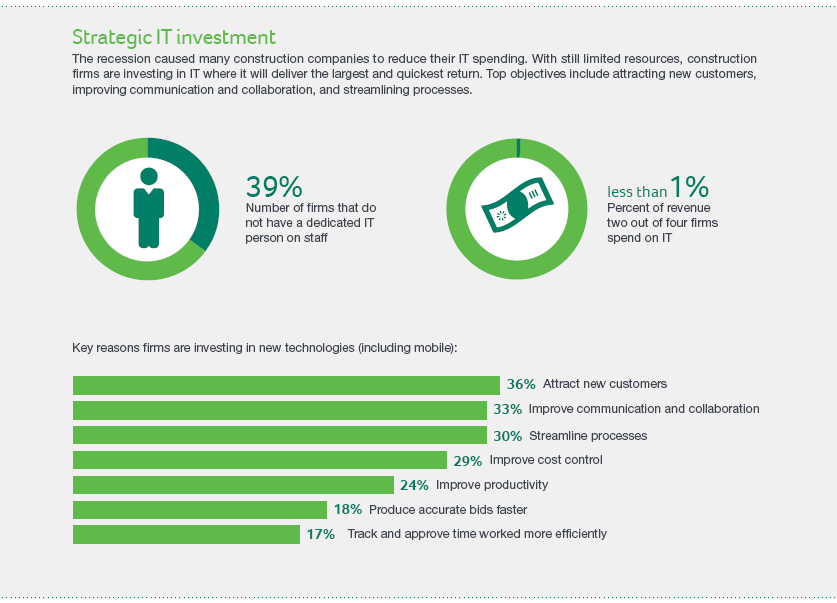 What Does Collaboration Look Like?
Collaboration technology can take many forms and touch many different parts of your construction business. Take the bidding process for example. Building and managing bidder lists is not an easy task and neither is tracking the sheer number of back-and-forth communications throughout the process.
But you can make things easier and far more efficient for everyone by giving estimators, bid coordinators, subcontractors, and material suppliers online access to a centralized bid collaboration hub like Sage Bid Management. In fact in our recent article that provides 5 Critical Steps to Winning More Bids, we explain how leveraging the right technology is key to improving bid speed and accuracy – and collaboration plays a big role in that.
Another example of collaboration technology is the new Sage Construction Project Center that provides an online repository for all project-related documents like drawings, RFIs, punch lists, daily logs, contracts, change requests, and so much more. Using a laptop, tablet, or mobile device, anyone involved in the project has easy and instant access to everything they need to keep things moving forward.
Technology Keeping Everyone In Sync
Everyone knows project plans and drawings can change. But it's not always easy to keep track of which contractors have been provided the most current project documentation. That's when the risk of delays, budget overruns, and lawsuits can wreak havoc.
Online collaboration software and technology keeps everyone in sync whether in the office or on the jobsite. When everyone has access to the same information from one central hub, you avoid confusion and other potential roadblocks like approval delays. You also ensure accountability because most collaboration software includes built-in audit trails and a traceable record of every action performed.
A word about mobile technology – a big reason that collaboration has taken off in the construction industry is due to the recent advancement in mobile technology. Most collaboration software runs in "the cloud" which makes access to these centralized hubs much more practical and easy to use since just about everyone has a mobile device in their pocket or a tablet in their truck.
Testing the Waters
Collaboration doesn't have to be an all or nothing proposition where you have to go "all in." Most companies dip their foot by identifying specific processes they want to improve like bidding or managing RFIs. They gradually discover the power and efficiency of collaboration technology and often become eager to roll it out to other areas of the business.
Free eBook:
Paving the Way to True Collaboration
Leave your name below and we'll send you a copy of the eBook Construction Success: Paving the Way to True Collaboration.
This document discusses the new technologies that drive collaboration throughout the construction process, what you should look for in collaboration software, and how it can benefit your operations.