Getting access to the right data and reports is critical to running a healthy and profitable construction company. Yet, so many business owners and managers lack the tools they need to efficiently collect information and make informed decisions.
That's probably why an increasing number of our clients are asking about business intelligence reporting.  So we're going to take a closer look at what business intelligence technology means for the construction industry.
What is Business Intelligence Reporting?
In a nutshell, business intelligence reporting usually refers to a set of tools that make it easy for you to collect large volumes of raw data and convert that data into something more meaningful in order to make smarter decisions (that's the "intelligence" part).
That may sound similar to what your "regular" reports are doing today. But beyond just gathering and interpreting data, business intelligence delivers a couple of key advantages.
Business intelligence tends to be much more visual than standard reports
A good business intelligence platform lets you slice and dice the data in a much more "hands on" fashion
A Picture is Worth A Thousand Reports
A key advantage of business intelligence reporting is that it combines charts, pivot tables, and graphs to provide you with something that's much more visual than most standard reports.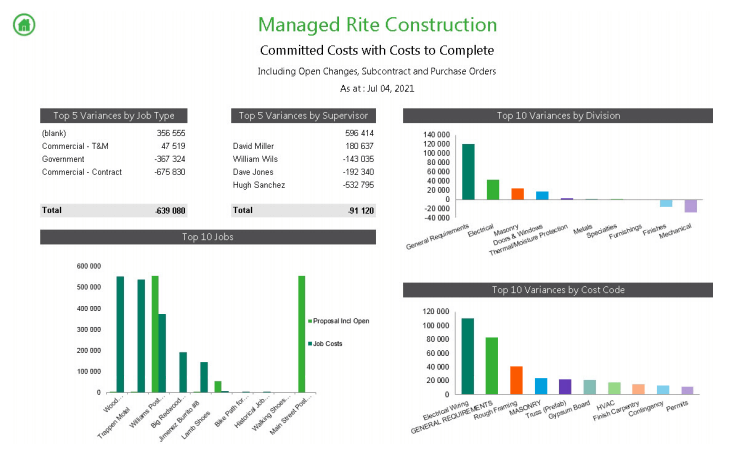 This type of "dashboard-style reporting" can be compared to driving a car.  One glance at the dashboard tells you everything you need to know about your speed, fuel, oil temperature, and other vital systems to ensure your vehicle is running smoothly.
With business intelligence reporting, the charting tools and graphs convert large volumes of raw data scattered across your construction accounting system into something more visual and easier to interpret at a glance.  You're able to keep tabs on things like project costs, budgets, and variances without spending hours "digging through the numbers" or reviewing countless lines on a report.
Hands-On Analysis in Microsoft Excel
A majority of the construction industry still relies heavily on paper-based historical reporting. By the time these reports are produced, it's often too late to make adjustments to a project that went sideways or over budget.
The reports you generate with business intelligence are dynamic and real-time so you're not just looking back at what happened in the past. The ultimate goal of business intelligence is to improve the relevance, timeliness, and flexibility of reports in order turn your best guess into a confident decision.
And with business intelligence tools, it's far easier for managers, executives and other non-technical construction software users to modify reports and create ad-hoc inquiries without help from the IT department. It's a hands-on reporting experience without having to mess with databases and technical stuff.
In short, business intelligence can make the difference between simply capturing and storing construction data versus putting it to work as a strategic advantage for your business.
Introducing Sage Intelligence for Sage 100 Contractor
Sage recently announced that their very popular Sage Intelligence Reporting platform is now available for Sage 100 Contractor.
Right out of the gate, you get 16 ready-to-use business intelligence reports that pull real-time construction accounting data into an Excel-based interface so you can slice, dice, and analyze your way to a more profitable business.  You can even drill down straight from the charts and pivot tables in Excel to underlying transaction details in Sage 100 Contractor.
And because it connects directly to Sage 100 Contractor, your days of manually copying and pasting data into Excel spreadsheets and then adjusting and rechecking your formulas are long gone.
To learn more, download the Sage Intelligence Brochure or head over to our YouTube channel to watch a recent Sage Intelligence Overview Demo.
Sage Intelligence Test Drive
30-Day Free Trial
Try Sage 100 Contractor Intelligence Reporting free for 30 days and experience just how powerful and easy business intelligence reporting can be with just the click of a button.
Leave your name below and one of our friendly consultants will follow up to get your Sage Intelligence test drive started.