The question of whether or not to outsource payroll is one that almost every construction company considers at some point in the course of their business. The pros and cons of in-house payroll versus outsourcing are considered and costs are evaluated. At first glance, outsourcing may seem the way to go – a third party to handle issuing checks or processing direct deposits, tracking tax liability, and quarterly and year end government reporting.
Construction Payroll Processing is Unique
However, in the construction industry, the normal payroll processes are further complicated by unions, certified payroll, multiple work locations, seasonal workers, employee turnover and shifting pay rates. Many payroll service firms are not designed to handle the special requirements of construction payroll.
In addition, outsourcing the payroll function often does not alleviate in-house personnel of many of the related tasks including:
The work involved to process time sheets and get that information into a format that can be uploaded to a third party;
Allocating labor to jobs and capturing that information for billing;
Importing or manually entering the processed payroll information back into the accounting software for integration with accounts payable, job cost, cash management and general ledger;
Reporting to unions;
Keeping it In-House with Sage Payroll
In many cases, keeping the payroll process in-house might make the most sense for your company.  That's where the Sage Payroll module – for Sage 300 Construction software – has many valuable and time saving features to consider:
Control
You can define as many different pay types, deductions and fringes as you need, as well as set up different pay groups and rate tables that you create.  In addition, you can determine the method and order that pays, deductions and fringes calculate.
Unions and Certified Payroll
Sage has an in-depth setup structure for Unions, Locals, rate tables and Certified Payroll, so that when employee time is entered, pay rates, fringes and deductions are automatically calculated.  Union and Certified Payroll Reporting is built into the system and can be customized as needed.
Entry and Processing 
Time sheet entry screens can be customized for different employee groups.  In addition, time can be entered by jobs, cost codes, days of the week, and union locals and classes.  There are even multiple options available for field time entry that can then be imported into Sage.
The system will automatically send detailed or summary payroll information to Job Cost, Billing, Equipment Cost General Ledger.  And after processing payroll with either checks or direct deposit, that information is automatically captured in Cash Management and General Ledger.
e-Filing with AATRIX 
Sage has partnered with Aatrix Software, a third party e-filing company to create an integrated process for filing your Federal, State and Local taxes, as well as year-end W-2 forms, 1099 forms and filing Affordable Care Act forms.  In addition, built-in tax tables for all tax calculations are easily updated from within the software.
Reporting 
Using a combination of pre-built and customizable reports and inquiries, information regarding employees and payroll is readily available when you need it.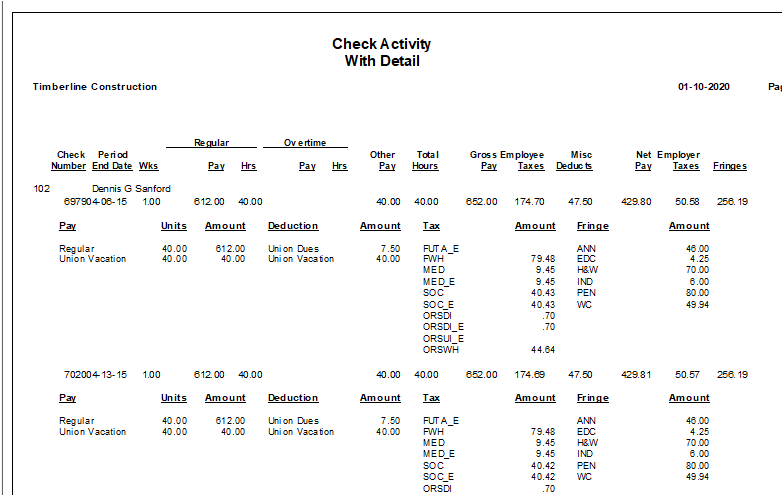 The Sage Payroll module is an integral piece of the Sage 300 CRE software and, in the end, may fulfill your company's needs for payroll processing in a more cost effective and efficient manner than outsourcing.  Be sure to contact us with any questions you may have about managing construction payroll at YOUR company.