Perhaps you're using Sage MyAssistant for one or two specific things like sending employee pay statements or distributing reports to management. You probably suspect you can do more with MyAssistant, but you're not sure what can be done. The key to getting the most out of Sage MyAssistant is to let your imagination run wild. A great place to start is building a list of possible ways you might use MyAssistant – but don't worry (yet) about how to set them up.
In this article, we outline some quick and creative ways that other Sage Construction customers are using the MyAssistant software which can provide some great ideas and inspiration when building your own list.
Pre-Built Tasks in Sage MyAssistant
MyAssistant comes with 100+ examples of how other Sage customers are using the software in the form of pre-built processes called "Tasks."  You can set these processes to perform actions like:
Alerting you to specific situations – examples range from sending a list of vendors or commitments with expiring insurance, to alerting Past Dues invoices or someone changing pay rates in Payroll.
Generating reports – from sending project managers weekly labor, cost or AR Aging reports for just their jobs, to sending a custom report you've added to a Sage menu.
Creating & distributing Excel Spreadsheets with information in Sage – common examples range from Cost-to-Complete Forecasts and Vendor Insurance Call Lists to AR Aging.
Sending Documents – examples include sending employee pay statements, vendor payment statements, letters, service invoices and customer statements.
The MyAssistant prebuilt Tasks are grouped by Sage application in the MyAssistant Designer – just expand a group to see all the different Tasks available:

See Also: Sage MyAssistant FAQs
Using Search to Discover New Options
If you're curious about whether MyAssistant can help manage budgets, change orders, etc., use the Search option at the top to see what's already available out of the box.
The MyAssistant Search is very flexible – just try different words that you think will help you discover what you're looking to do.
For example, you can search "Invoices" to see AP and AR invoice management Tasks:
You can also search "Spreadsheet" to see what Tasks come with a spreadsheet already attached:
Try searching "Change" to see Tasks that track when information in Sage changes, as well as Tasks around change requests and change orders:
You can also search "cost", "budget", or even the word "over" to find different Tasks:
It's also easy to quickly see what kind of information a pre-built Task can provide for you. Just select the Task you want to try out and click "Activate":
Click "Next" to get to the Email step, then replace what's in the "To" line (if anything) with your email address:
Click "Next" twice, then "Finish" and "Yes" to run the Task and send an email:
MyAssistant next runs the Task. Anything it finds will be placed into an email and sent: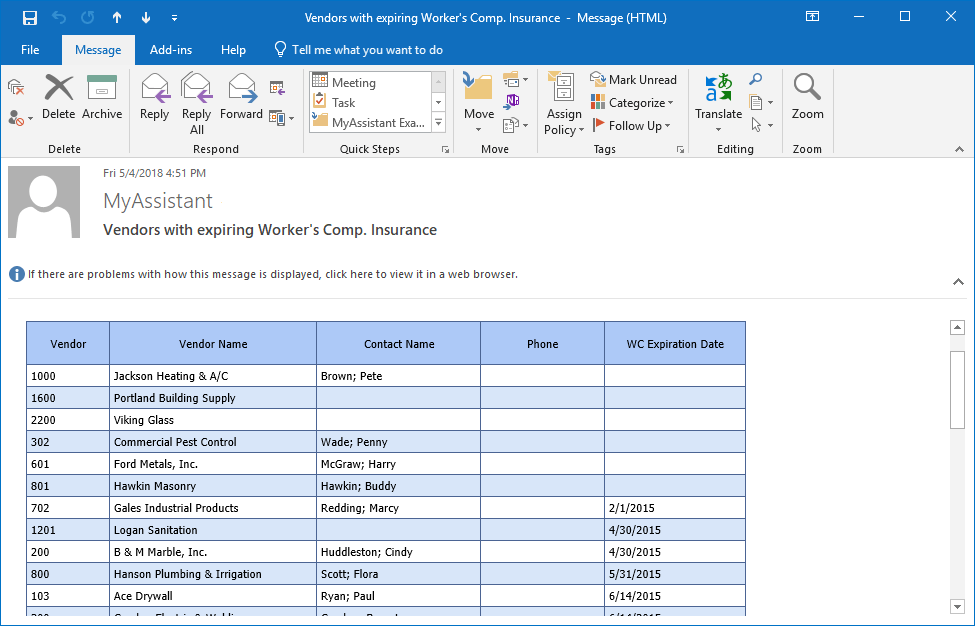 If you decide you want to customize the columns included in the list you're sent, you can add or remove columns in the Email Step of the Task. If you want to change how the list is filtered, that is done in the Task Condition.
Also note that you can copy and modify pre-built Tasks, as well as create new tasks to meet your needs:
Conclusion
When thinking of new ways to use the MyAssistant software, it's important to let your imagination run free. Building a list of possible ways to use MyAssistant – without worrying about how to set them up – is a one of the best places to start. The pre-built Tasks that provide a valuable resource for generating ideas and building your list, as they show you how other Sage customers use MyAssistant to their advantage.
If you're curious about if Tasks are available around a certain subject or topic, the Search is a great way to explore. Also, activating pre-built Tasks is a quick and easy way to see what Sage information a Task can provide. These are all great early steps towards getting the most out of your MyAssistant software.
Have Questions or Want Help?
Click below to get in touch. One of our expert customer service reps will follow up with you shortly and start you on your way to getting the most out of Sage MyAssistant.