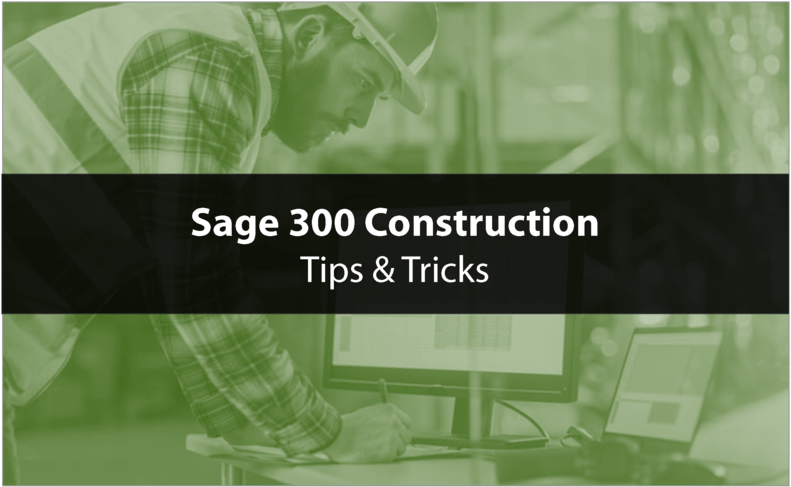 Like most software training programs, you probably spent lots of time learning how to get data into your Sage 300 Construction and Real Estate system. But sometimes there isn't as much focus on getting that data back out in a meaningful way that shows you how your business is doing and where you need to focus your attention. In this article we'll focus on some of the most common reporting options available to you in Sage 300 CRE.
Option 1:

Inquiries
On-screen inquiries are perfect for quick and instant access to information you need to answer a specific question. It's different than running a report or series of reports because inquiries tend to be more interactive.
The controls built into Sage 300 Construction inquiries allow you to drill down from summary information to supporting detail and even specific transactions if you need to take it that far. You can also use filters to include or exclude certain parameters, add or change columns in an inquiry view, and export the information to a spreadsheet.
You can use any number of common pre-packaged inquiries built into Sage 300 Construction or take it to the next level and design your own custom inquiries.
Option 2:

Document Designer
Do you want to create customized subcontract and purchase order documents but don't have the time to install and learn a new report writing tool? With Sage 300 Construction Document Designer, you can use Microsoft Word to create documents from on your data.  Part of the Job Cost and Project Management modules, Document Designer provides pre-packaged templates that streamline your workflow.  You can edit any of the templates or even create your own custom template.
Option 3:

ODBC
ODBC stands for Open Database Connectivity and is the key to connecting your Sage 300 Construction and Real Estate system with another external software program. With ODBC, you can access data outside of the Sage 300 CRE program and combine both data sources for things like:
Data analysis and forecasting in MS Excel
Mail merge in MS Word for letters, labels, and bulk email
Reporting through SAP Crystal Reports
Linked tables in Access for queries and to update data in Sage 300 CRE
Option 4:

SQL Server
Some construction companies need to run reports that have so much data, it takes a long time for the built-in Crystal Reports engine to generate and present the information.  That's where a more powerful database and reporting engine like Microsoft SQL Server comes in.
See also: What SQL Server Means to the Construction Industry
With SQL, you'll experience significantly improved performance within Crystal reports and you can even use the Sage Mobile Intelligence applications to access reports while you're in the field or away from the office.
Note: to copy the Sage 300 Construction data stored in the Pervasive data management system into SQL Server, you'll need to use the Sage SQL Replicator that was introduced with the release of Sage 300 CRE Version 17.1.  After the initial is complete, there is no need to create new Crystal reports based the data stored in SQL Server – you can use existing reports with a Pervasive data source. When you generate the report in Sage 300 CRE and select the 'Use SQL' check box, the software automatically replaces the Pervasive data source with the SQL data source.
Option 5:

Mobile Intelligence
Whether you're in the office or out in the field, Sage Mobile Intelligence lets you stay connected with your financial and project data using a web browser or mobile device.  Mobile Intelligence comes with your software license of Information Assistant.
With Mobile Reports, you can either view Crystal reports on your screen or download them to your mobile device.  You can also choose from among several pre-packaged Mobile Dashboards for data visualizations of your company's overall performance and trends.  And if you have a Mobile Dashboards Designer license, you can even create your own custom reports and dashboards.
Need Help With Your Reports?
At Accordant Company, we think that ongoing education and training is an important part of our clients getting the most out of their software investment. That's why we offer a wide variety of Sage 300 Construction training courses for everyone from beginner to expert.
Click the button below to browse the list of upcoming classes.
P.S. Can't find something you need? Contact Us directly and one of our Sage Construction software experts will follow up with you.