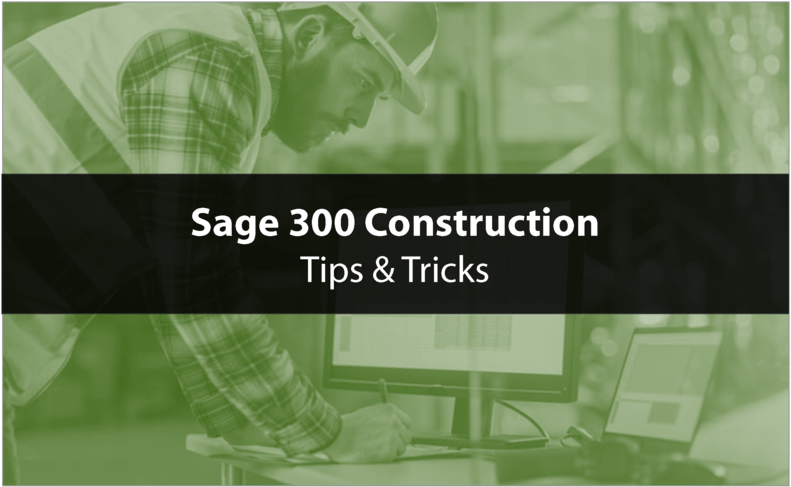 It is immensely important for accurate balances and consistency in data entry in the Sage 300 Construction Accounts Payable module. The Accounts Payable function involves nearly all of a company's payments outside of payroll and is one of the most vital tasks a business can do to ensure accurate financial reporting. Accurate listings of open invoices helps to manage cashflow and to ensure all vendors are properly and promptly paid.
In Sage 300 CRE reconciling the Accounts Payable module to the General Ledger begins by reviewing the settings to validate AP is posting towards proper accounts automatically when creating entries. You can review the existing setup of your AP module by going to Accounts Payable — AP Settings — and selecting "GL Entry Settings".
This will allow us to view the General Ledger account assigned as the Accounts Payable Account as well as the Retainage Payable Account, Credit Card Payable default account, and any Inter-company accounts associated with AP.
Typically, two instances can lead to issues where reconciliation discrepancies can exist between the Accounts Payable module and the listed account balances in General Ledger.
Unposted Entries in General Ledger
Entries from other Modules to the Accounts Payable account
Unposted Entries in the General Ledger
Unposted entries to the General Ledger can happen if Manual Posting is turned on between the Accounts Payable Module, if entries are created towards a closed period, or if revision entries have been posted deleting an invoice or voiding a check.
Unposted Accounts Payable entries will sit in the General Ledger "New" File until posting. I recommend a thorough review and posting of the General Ledger New file on a weekly, if not daily occasion. This file can easily be reviewed in General Ledger — Inquiry — Entries and selecting "New".
These entries can easily be posted provided the Account period is open and allows for entry by utilizing General Ledger — Tasks — Post Entries
Entries From Outside Applications
Entries created to the Accounts Payable account from outside applications will also lead to reconciliation discrepancies. The most common example of this are entries created in the General Ledger as these entries will not flow back to the subsidiary ledger. Therefore, needed entries to write off or adjust an invoice or the AP balance should be done in the AP module on an invoice by invoice basis.
Any entries created in this fashion can easily be reviewed by utilizing the following steps.
1. Navigate to the Account Inquiry by utilizing General Ledger — Inquiry — Account
2. Select the Current (posted) file.
3. Find the accounts payable account then double-click on it.
4. Click Conditions (or the blue funnel button).
5. From the Field list select Application of Origin, Select Not Equal To for the Operator, and in the Value enter AP.
6. Click OK
This will show a comprehensive listing of any entries entered towards the AP account outside of automatic posting processes. These entries should be corrected as needed.
The Most Common Culprits
These instances have been the most numerous data errors I have noticed as a consultant, and the easiest way to ensure accuracy in all accounts and entries is to maintain a proper review procedure. Reviewing report balances on a regular basis, maintaining regular maintenance of old or past due invoices, and ensuring accurate and prompt entries of new invoices are the most important ways to avoid any of the above scenarios and ensure that your company has an accurate listing of open invoices.
Want More Sage Construction Tips?
Click below to check out our archive of other super-helpful and step-by-step tips and tricks for Sage 100 Contractor and Sage 300 Construction and Real Estate.