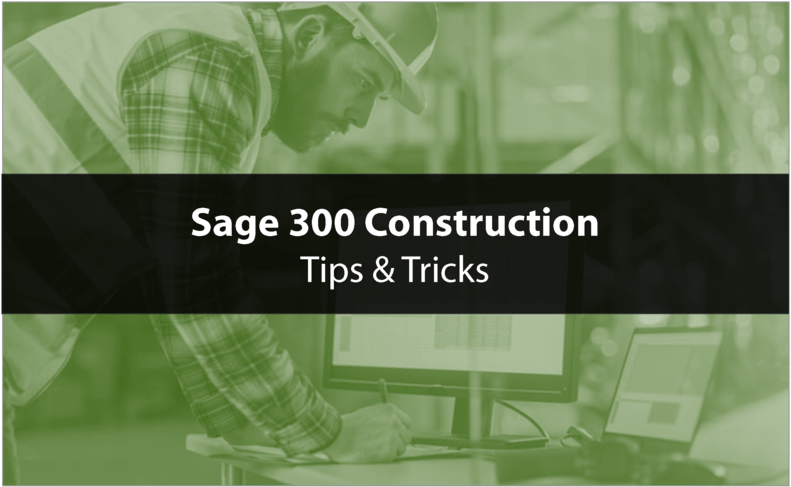 Rate tables are a great way to automate the retrieval of different rates for individual employees or groups of employees under specific circumstances. Traditionally, typical uses of rate tables in Sage 300 CRE are to retrieve rates based on:
Union, local, class
Certified Jobs
and prevailing wages.
However, rate tables can be used for a lot more.
Pay Rate Table Setup
If you look at the field options below (under set up, other, rate tables), you see that there are a number of items that can be checked off to create a rate table.
There is no limit to the number of the tables that you can setup in your system. Therefore, you can create different tables to retrieve rates for different combinations of fields.
Rate Table Hierarchy
During time entry, as you enter information into fields and tab forward, the software will quickly search through all the rate tables in your system to find the match that satisfies the greatest number of fields in a rate table. It then retrieves that rate.
For example, if you have one rate table that contains…
Job, employee, Department, Rate
and another rate table that has only…
Employee, Department, Rate
…when time is entered that matches the combination of the Job, the employee ID and the department, the software will select the rate that matches that line.If any of those three items is missing, the software will retrieve the rate from a table with less fields that match the time entry.
This allows you to use the rate table concept to create an infinite number of possible combinations to produce a rate.
In addition, there are two miscellaneous fields that can be renamed to anything you want. That gives you the flexibility to come up with a totally custom combination of fields of your choice. Keep in mind, that if you do rename one of the miscellaneous fields, you would want to add that to your time entry grid for the purpose of ease of populating the field with information during time entry.
Once a rate table is created it is automatically evaluated as part of the rate retrieval hierarchy search during time entry.
Note however, if the rate that is on an employee record is higher than the rate that would be retrieved from a rate table, the higher of the two will always be selected.
Want More Articles Like This?
Click below to check out our collection of other handy Tips & Tricks for both Sage 100 Contractor and Sage 300 Construction and Real Estate.