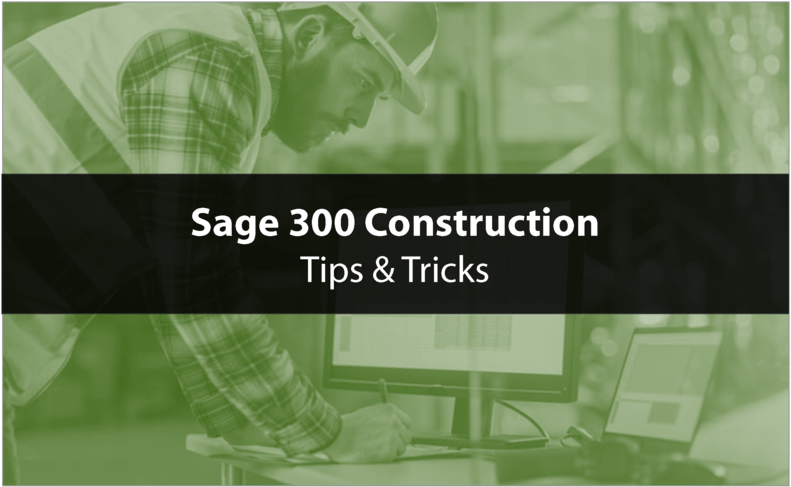 Upgrading your Sage 300 Construction and Real Estate (CRE) software is an important part of managing a healthy system and staying up-to-date on current technology and features. But before you update anything, you should ALWAYS backup your data. In this article, we'll show you how to do both (and as a bonus, provide guidance for archiving data you don't use as much anymore).
2019 Year End Supported Versions
The ONLY Supported version of Sage 300 for the 2019 Calendar Year End is Version_18.
Version 17& prior will not be supported for 2019 year-end processing.
There will be a "Year End" release for version 18 scheduled on or about 12/15/19.
Note: do not wait too long or you will get caught in the end of year rush.
Sage 300 CRE Upgrades
1. Determine your version of Sage Go to Sage Desktop, select > Help > About Desktop and you will get the below screen, which states the version that you are on.
2. Review Sage 300 Construction System Requirements before upgrading.
3. Complete and review Accordant Upgrade Questionnaire before upgrading to the latest version of Sage 300 Construction with your consultant. We strongly suggest using Sage experienced IT consultants or Accordant Services to perform the upgrades.
4. Verify that your Third-Party Add-Ins are compatible with the latest Version of Sage 300 CRE (i.e. See chart below from TimberScan).
5. Sage 300 Estimating is now written in MS SQL. Sage Estimating Pervasive has been eliminated in Sage Estimating Version 18. You must convert to Sage 300 MS SQL version, BEFORE upgrading Accounting to Version 18. Please contact Accordant.
6. Get educated on the enhancements offered via Sage University, Sage Knowledgebase, or by contacting Accordant for hands on training immediately after the upgrade.
Sage 300 CRE Backups
Configure Sage 300 CRE to perform Automatic Nightly Backups thru the new, built in backup procedure. The new Automated Backup Procedure can be configured to backup:
All (or only selected ones) of your Sage Data Folders
All your Sage 300 CRE Programs (IE: the 9.5 folder)
All your Sage 300 CRE SQL Replicator Data
The advantage of doing this, is you have a backup from the night before. If for some reason you need to restore one of your files, you can easily view all of the backed-up files in one easily accessible Zip File.
You may want to review your current backup procedures. If you are backing up every evening with incremental backups, instead of full backups, they will not be helpful if you need to restore a single file. Sage does not support restoration from incremental backups.
Sage 300 Data Archive Suggestions
Develop a data archive strategy. Review with your accounting department to review what data they need on hand. Sage Data Archives do not delete any data. They move records from your Current File to your History file.
Sage File Structure. When you run a Sage Inquiry or Standard report, you will be prompted to run from New, Current or History file.
New File: Contains records that are Not Posted
Current File: Contains records that are Posted
History: Contains records that have been Moved from Current to History, what we call the data archive process.
Only keep 3 years of data in your Current File. Move transactions more than 3 years old to your history files at every year end. Reports will run significantly quicker if you currently have more that than 3 years' worth of data in your current files.
Standard Sage Inquiries & Reports give you the option to select the Current & History records when running and inquiry or report.
The History Records are easily accessible.
i.e. If you run a Job Cost
Run File Compaction option thru File Doctor after Data Archive.
This will remove "blank space" from your data files. This will make system run smoother.
Run with the option to "Fix" bad files.If there is a minor data file corruption, most of the time this will fix it.
You may receive some warning errors about unprintable characters or items like that. You can then review your daily processes to see where these characters are coming from. i.e. Cutting and Pasting HTML emails with graphics in them to fields in Sage.
Have Questions or Need Help?
Click below to get in touch with a support consultant at Accordant Company who can offer:
Sage 300 upgrade and server migration services
Data archive services
System work flow review
Technical hardware review
Software system implementation
Custom report writing
Application support
Training