Vendor requirements help ensure that everyone is operating the same way, and with the same high standards. Sage 300 Construction and Real Estate software (formerly Timberline Software) enables you to do just that!
Sage Suite of Construction Management Software manages all aspects of the subcontractor relationship, from waivers and insurance certifications to certified payrolls and much more, while integrating within the business processes of your organization.
In this article, we'll walk you through the process of setting up Insurance and Miscellaneous Compliance items in the Sage 300 CRE Accounts Payable Module.
Vendor Compliance Setup
The Insurance/Compliance Tab can be set up to track the status of the vendor's General Liability, Automobile, Workers' Compensation, Umbrella, and two other insurance policies.  You can specify miscellaneous compliance items such as license, permit, test results, etc. that are required from the vendor.
Once compliance settings are in place, Sage 300 Construction software can warn you or prevent payments when items are out of compliance.
Here's how …
Select File > Company Settings > AP Settings
Click on 'Compliance Settings' and click 'Compliance Warning Settings'.  There are 3 options to choose from:
Display warning message during invoice entry
Display warning during invoice payment selection
Block payment of invoice
Choose one or all of the warning settings for each compliance area including Lien Waivers, Certified Reports, Insurance, and Miscellaneous Items.
Manage receipt of these items in the Vendor Set up or in Subcontractor Compliance Management which can be found in:
AP > Tasks > Subcontractor Compliance Management
or in …
PJ > Contract Control > Subcontractor Compliance Management.
Insurance Management
In Sage 300 CRE, you can track six types of insurance policies for the vendor including:
General Liability
Automobile
Umbrella
Worker's Compensation
Custom 1
Custom 2
Note:  The names of the Custom 1 and Custom 2 insurance types can be changed in the AP section of the 'Custom Descriptions Window' (File > Company Settings > Custom Descriptions).
How is this set up?
Type the name of the insurance company, enter the policy number, the effective date of the policy and if applicable, enter the date the policy expires. If the insurance expires, Accounts Payable may display warnings during invoice posting, when selecting invoices to pay, or block payments to the vendor depending on your Compliance Warning Settings. Enter the maximum coverage amount of the insurance policy and the date that you received a copy of the insurance certificate.
There are 3 additional options available for each type of insurance:
Require per commitment

– select this check box to require this type of insurance for every commitment associated with this vendor. When you create a new commitment, the insurance company name is automatically copied to the Insurance for Commitment window.

Proof required

– select this check box to require the insurance certificate be received in order to be in compliance. Depending on the Compliance Warning Settings, the operator will see warning messages or payment may be blocked when this insurance is out of compliance.
Override – Select this check box if you want to allow payments to this vendor even if the insurance has expired or proof has not been received.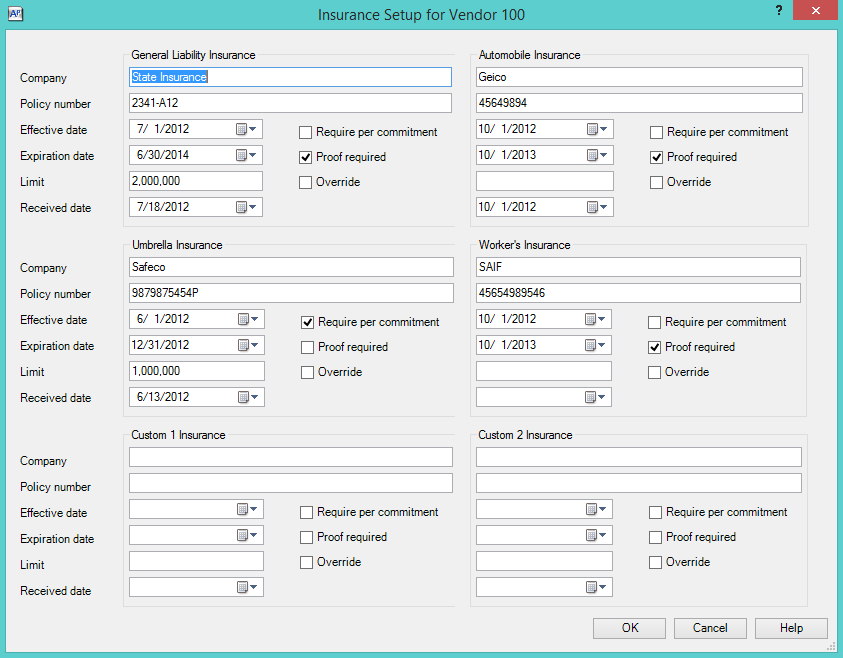 Misc Compliance Items
In Sage 300 CRE, you can also set up and manage Miscellaneous Compliance items that are required from a vendor in the following ways:
They can be vendor specific – items that are required from all your vendors to do work for your company such as W-9, E-Verify, etc.
They can be non-job specific – required from the vendor no matter what job the vendor is working on (ie. Signed contract, punch list, etc.)
They can be job specific – requirements that are only required when the vendor is involved in specific jobs that have specific requirements (ie. Contractor's License for specific state, permit for specific locale, or certain other requirements for the job).
The list of miscellaneous compliance items is completely customized to meet your company's needs.
To set up miscellaneous items go to File > Company Settings > Custom Descriptions > AP Misc Compl Type.
For items you may require from all your vendors, select the Misc. Compliance Item from the drop-down list (that you have customized). Select the "Required" check box to require the misc. compliance item to be received to be in compliance prior to payment to the vendor. Depending on the AP Compliance Warning Settings, operators will see warning messages or payment may be blocked if this compliance item is not received.
For non-job specific misc. compliance items; items required regardless of what job the vendor is involved, select "Required on Job" check box. This tells the software that this item is required on any job that the vendor is involved with.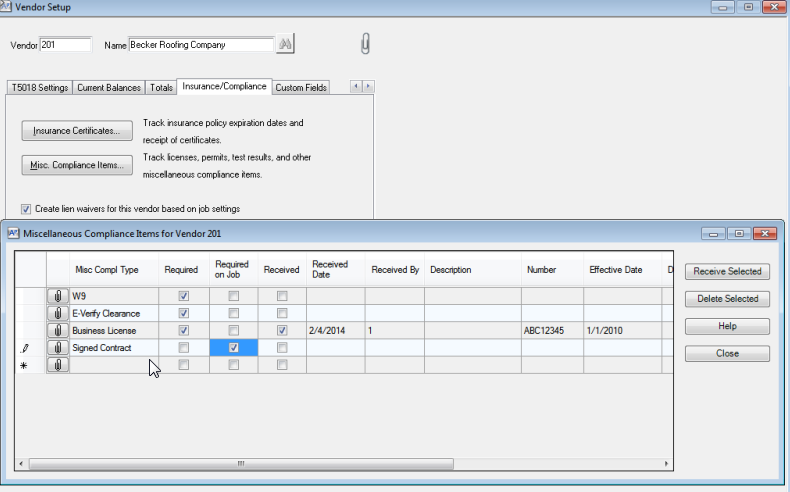 Need Help?
Get In Touch with the Sage 300 CRE Experts
Head over to our Events Page to browse our upcoming live or online training classes.
Or leave your name below and one of our Sage 300 Construction software experts will follow up with you shortly.