Sage ETakeoff
Takeoff Construction & Cost Estimating Software
Benefits of eTakeoff
Boost estimating capacity and numbers confidence.
Produce faster, more accurate estimates.
Cut printing costs and estimate review time.
Protect against miscommunication errors.
Get up and running quickly through easy-to-learn software and helpful training tools.
eTakeoff®, an electronic quantity takeoff product distributed by Sage, significantly increases accuracy, productivity, and speed over traditional paper or manual takeoff methods. Powerful yet easy to use, eTakeoff provides estimators sophisticated assembly capabilities, extensive Microsoft® Excel integration, and time-saving features like Pattern Search, an auto-count symbol search feature that quickly locates and quantifies multiple occurrences of symbols within digital plans, to greatly improve the takeoff process.
Get a Free Trial
Sign up for the free trial and see why so many estimators choose eTakeoff over other digital takeoff systems.
eTakeoff Integration with Sage
Save Money and Your Team's Time
In addition to increasing your takeoff productivity, moving from paper to digital takeoff methods eliminates the hassle and cost of producing paper copies of plans during the bid phase. As a single copy of plans can cost hundreds of dollars to reproduce, you can quickly realize substantial cost savings when producing numerous bids. And digital plans allow for easy sharing and reviewing of all takeoff projects online rather than waiting for paper to circulate among your team.
BID WITH CONFIDENCE
Dramatically increase both your estimating capability and your confidence in the numbers you provide. With eTakeoff, you can:
IMPROVE PRODUCTIVITY AND SPEED
Become up to 15 times more productive than when using paper or manual takeoff methods. Have more time to analyze estimates and take on additional bids without increasing staffing.
IMPROVE ACCURACY
Measure to within a thousandth of an inch to take any guesstimates out of your bids. Easily highlight what you've already taken off to avoid potential mistakes and unforeseen project costs due to omissions.
IMPROVE COMMUNICATION
Provide takeoff history to automatically back up what was (and was not) included in the scope of your estimate to limit the potential for, or quickly resolve, disputes down the line.
Easily compare new and previous drawings provided by architects to quickly see any changes that may or may not have been noted, preventing future issues that can impact a project or team relationships.
Multiple Versions and Add-ons to Fit Your Needs
eTakeoff Advanced Features
eTakeoff Advanced includes an array of built-in features so you can get started quickly with very little training.
Powerful measuring and scaling
Electronic plan room integration
Annotations
Measurement list
Unlimited layers
Bid codes
Issue management
Extended measurement calculations
Drawing legend
Overlays/Revision compare
Unlimited drawing windows
eTakeoff Premier Features
eTakeoff Premier is designed for power users to customize nearly every function and integrate those into your current estimating process.
Includes all eTakeoff Advanced features, plus:
Advanced Excel integration
Quantity Worksheet/Models
Custom Extensions/Assembly capability with user-defined formulas and variables
Advanced project and drawing management
Advanced measuring tools
Unlimited quantity output
Pattern Search/Autocount
Navisworks Integrator (Add-on)
As an estimator, you shouldn't have to know the ins and outs of BIM design software to create production estimates from 3D models. Navisworks Integrator is an add-on to eTakeoff Bridge that puts model information into your hands.
You can fully automate the transfer of 3D takeoff details, or do some things manually. It's your choice.
Watch the Demo: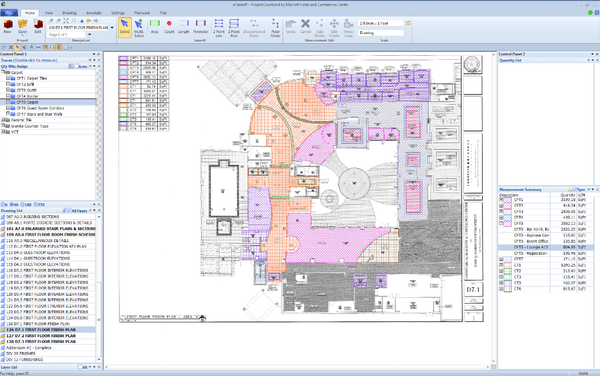 SnapAI – The Next Evolution in Electronic Takeoff
Estimators can cut takeoff time significantly and improve accuracy with SnapAI in eTakeoff Dimension Premier.
In the past, generic snap technology has enabled estimators to "snap to" points in a vector PDF, eliminating the need for an estimator to zoom into a drawing to find the most accurate corner or endpoint by hand. SnapAI takes this advancement even further by adding intelligence to vector takeoff by predicting what the estimator will do next and enabling point, logical line, and polyline selection for maximum flexibility.
KEY FEATURES:
AI capabilities "predict" what estimator will do next, accelerating point, line or polyline selection.
Creates faster takeoffs, cutting existing takeoff time nearly in half while improving accuracy.
Allows switching takeoff modes during a measurement, eliminating the need to start over if underlying vector data is incomplete.
Quickly traces building components by recognizing logical connecting lines.
Have a Question or Want a Quote?
Leave your name below and one of our construction software experts will follow up shortly.